Why Buy a New Hyundai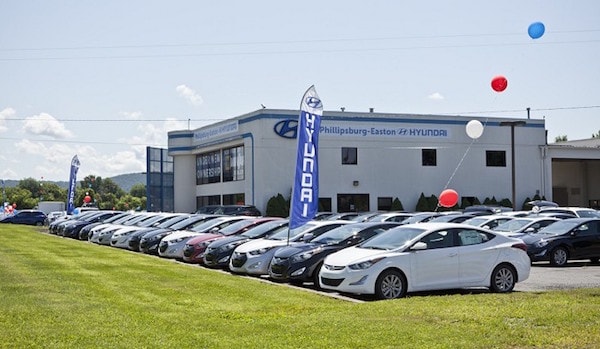 When the time comes for you to buy a new car, there are few better choices in terms of brands than Hyundai. They offer a wide selection of vehicles that provide something for car-buyers of all kinds, from those looking for an economical compact to those on the hunt for a larger family vehicle. However, it is not just the great vehicle lineup that makes buying a new Hyundai in the Easton area such a great idea, there's a whole list of reasons why.
Great Hyundai Dealership Near Easton
Phillipsburg-Easton Hyundai is part of the Vinart family of dealerships. That means our customers not only get a hassle-free car-buying experience, but they also get over $2,000 in savings as a Super Club member when they buy a new Hyundai vehicle. That's not something that you'll find at just any car dealership in the Lehigh Valley. Our friendly and knowledgeable sales team is always ready to assist you in your search for a new car, and can set you up with a test drive in any new Hyundai that you may be interested in.
Affordability
The Hyundai brand is focused on delivering dependable vehicles that don't break the bank. Each model is fairly priced so that financing a new Hyundai near Easton is quite simple. Our expert auto finance team will help you get an auto loan that makes sense for your situation from one of the many local and national lenders that our dealership works with.
Choices
There's no shortage of vehicles to choose from when you buy a new Hyundai. Choosing a new one may be more difficult with so many tantalizing options like the sporty and capable Santa Fe and the versatile Tucson when it comes to sports utility vehicles. Hatchbacks like the Veloster and Elantra GT give you some style and capability at the same time, while eye-catching sedans like the Sonata and Azera provide an exciting drive and great fuel economy. Many of the most popular models come in hybrid designs as well.
Warranty
One of the main reasons that so many shoppers are choosing a new Hyundai is the wonderful warranty that comes with each one. Their warranty meets or exceeds every competitor in just about every category. Not to mention that you get unlimited 24-hour roadside assistance for up to five years, no matter how many miles you put on your vehicle. Here's what else you get with America's Best Warranty:
5-year/60,000-mile new vehicle limited warranty
7-year/Unlimited miles for anti-perforation warranty
10-year/100,000-mile limited powertrain warranty
If you need any more reasons why you should consider buying a new Hyundai, just contact Phillipsburg-Easton Hyundai today. You can give us a call at (855) 984-7704.